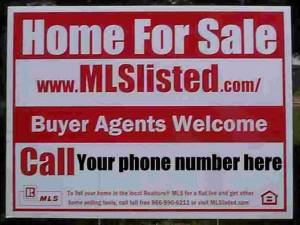 Agent Friendly, professional and highly visible
Shows your phone number, so calls come to you
Includes stakes that raise sign 3.5 feet off ground
Ready to go, nothing else needs to be purchased
1 year warranty against weather damage
Printed on both sides
Standard 24 x 18 inch size
Easy install, no tools needed (unless ground is frozen or hard)
Doesn't repel and confuse agents like "By Owner" signs
What previous customers have to say about our yard signs
"[What] really sets BuySelf apart from anyone else to me is that your signs look better" Art P.
"I chose BuySelf because of the comprehensive service (including flat fee MLS, lock box and signage). I also liked the professionalism of the signage." Margaret
"I like that the sign is included and lists my phone number, not yours!" A l l i s o n C o c k r i l l
"I chose BuySelf because of the Realtor-friendly signs." L i n d a K l u g
Avoid the problems created by signs that say "By Owner"
Terms like by owner, FSBO, for sale by owner, call the seller, etc. confuse, alienate, and repel buyer agents and the buyers they represent. For many agents, "by owner" means "I don't get paid" and therefore they actively keep their buyers away from by owner homes. For the best response, MLS listings need to attract agents, which is another way of saying be agent friendly.
What is an agent friendly listing and why is it important?
An agent friendly listing is a listing that will motivate agents to show and sell a property to their buyers. The opposite of an agent friendly listing is a listing that confuses, alienates, or repels buyer agents. An agent unfriendly listing can make a buyer agent motivated that their buyer not view or buy the property, for fear of not earning the buyer agent commission they expect when working with a buyer. Learn more about Agent Friendly MLS Listings on our blog.
Why do buyer agents matter?
Because statistically 86% of buyers work with agents, and agents either (1) select what properties their buyer will see, or (2) heavily influence which properties their buyers will see. For every 10 home buyers, only one won't be working with an agent. The best buyers, the ones that are ready (pre-approved for a mortgage), willing (actively investing time and working towards a purchase), and motivated (relocating, needing to find their next home because their current home is sold, etc) almost 100% of these buyers are using agents.
How do I get an agent friendly listing?
Three factors:
Get the right listing brokerage, one that won't input your listing using terms that will confuse or alienate agents. Unfortunately, the brokers that put these terms on a listing have no idea how much the way they list hurts their sellers, so they aren't going to reveal this problem while answering questions or on their website.
Make sure the listing brokerage will educate you as a seller how to respond to agent inquiries without confusing or alienating buyer agents. One good tip-off is how prominently do they recommend a key lockbox--listings without key lockboxes are more difficult and challenging for agents to show. You may not want/need a lockbox, but if the broker isn't educating you about this most important factor in home sales it is a good indication that there will be little or no education on how to be effective in the MLS. Without good seller guidance, the seller learning curve will be steep, and you will lose buyers and precious time as you learn by your own experience, and lose even more time and buyers by the mistakes you are make for which there is no feedback/tip-offs to indicate the problem.
The yard sign is often the most visible indicator of whether the listing is agent friendly. Avoid any yard sign that mentions the owner (by owner, for sale by owner, call the seller, etc.) or advertises a flat fee MLS listing service. These signs make agents worry that their buyer will go to the seller directly and they will lose the commission they were expecting to receive. Imagine in your own job finding out something that could put your next paycheck in doubt, that the last few weeks of work you have done you might not get paid anything for that time. We also recommend the yard sign confirm for agents that the property is listed in the MLS.
BuySelf Realty is a pioneer in flat fee MLS listings, in business since 1998. We invented the term and the concept of the agent friendly listing, and have refined it over the years. Think of it as BuySelf Realty's "secret sauce" that imitators cannot match. As a result, our sellers get more showings, more buyers, and a quicker sale then competing brokers. Agents from every large real estate company have sold our sellers' listings. Learn how you can have an more about Agent Friendly MLS Listing on our blog.