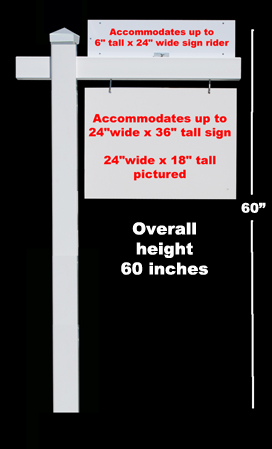 The most professional yard sign of all!
Five feet tall
Sturdy, wide ~3.5 inch wide posts
Easy two minute installation, no digging and no installer necessary
Easy-one screw to tighten
High quality vinyl looks better than wood, does not fade (material similar to vinyl fences)
Price includes shipping
The deluxe sign post generally ships same business day for two to four day delivery unless otherwise noted. Note: Deluxe Posts are shipped in separate packages from other signage, and generally arrive 1-3 days later than other hardware. Surcharge applies to shipping outside the continental United States, where available. Overnight/express shipping is not available, and does not apply to Deluxe Posts.
Important Note: Check local laws, association regulations, or bylaws for sign and post requirements for your property. A hammer is suggested for installation if ground is frozen/hard.
Deluxe Sign Post pictured with a blank sign panel and sign rider, which are not included and should be ordered separately. Sign end cap design varies from photo.
Video of Real Estate Post Installation in just a few moments:
What is included: