Agents no longer want to call to schedule a showing and wait for a response. Now, nearly all agents prefer to schedule showings by clicking on the MLS listing rather than calling.
Recommended, but not required scheduling service
Quick, easy setup, then it takes only seconds to approve a showing
Highly convenient and acclaimed by sellers and buyer agents alike
Secure verification of agent identity
Known as Showingtime or Click to Show
Sellers indicate each showing date/time either approved, declined, or propose a new time
Upon seller approval, system securely delivers showing/access instructions to agent for how to enter the property
Auto-approve is available for vacant properties or highly flexible sellers
Creates a log of showing agents, dates, and times
Not available in all areas, and not all elements of Showingtime service are available/included in all areas.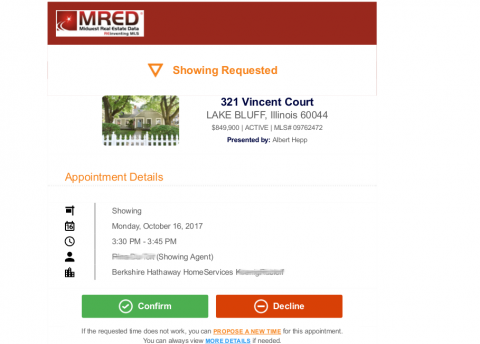 Example email/text message sms showing request image may look different depending on your area.